Posted by Travis McRae on Nov 8th 2023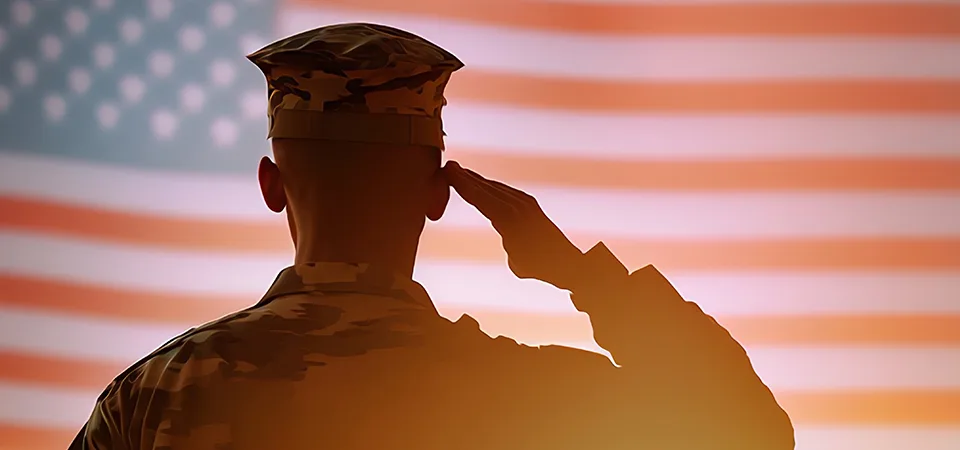 Celebrated every year on the 11th of November, Veterans Day is a paramount day in the United States of America. This day is set aside to honor and give thanks to the brave men and women who have served in the United States Military, acknowledging their sacrifices and showing an appreciation for their dedication to not only protecting the nation but also to the ideals for which it stands and its people. Unlike Memorial Day, which primarily honors those who have lost their lives in service, or who are no longer with us, Veterans Day recognizes all individuals who have served in the military, whether during times of peace or war, and regardless of whether they are still serving, have retired, or passed.
This is a lot to encompass on one day. To even begin to fathom what these folks did for our country to move forward and what they did for all of her people. To ensure that we still remain free and left to pursue our own happiness. It's a lot. A debt that I don't believe we can ever repay, but one we must at least attempt to bring the ledger out of the red in any way we can.
The observance of Veterans Day involves a number of activities and ceremonies, including parades, memorial services, prayer, and moments of silence, held across the country. This happens in almost every community across the U.S. and is a wonderful way to give back to these men and women. There are larger national events that take place for this federal holiday as well, such as that of an annual ceremony held at the Arlington National Cemetery. This is a free event and is open to the public. This ceremony serves just as one of many events that aim to honor the men and women of the United States Armed Forces and all that they do and have done.
In this article, we will be covering a range of things that are all fairly pertinent to Veterans Day, its importance, and its legacy. We will talk about the history of Veterans Day and its origins, its connections with the Vietnam War, the main difference between Veterans Day and Memorial Day, and ways you can thank the veteran(s) in your life.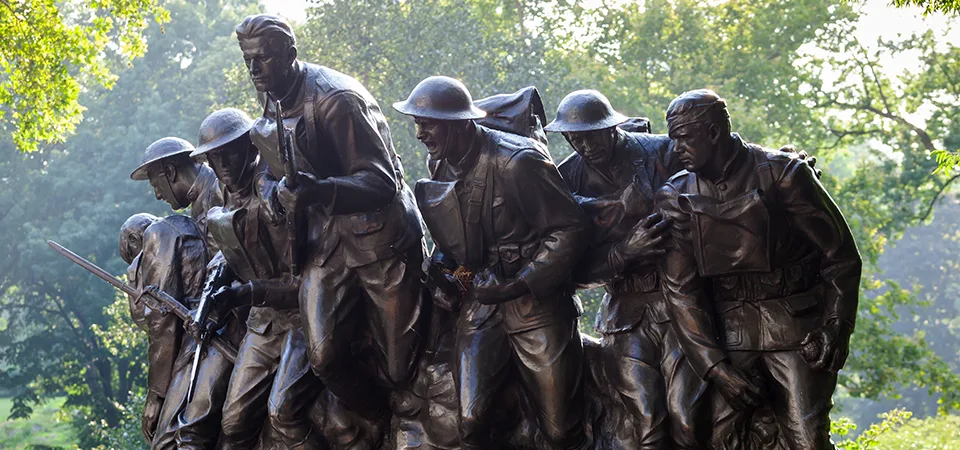 History and Origin of November 11th and the Significance of the Armistice
The origins of November 11th date back to the end of World War I. It was on the 11th hour of the 11th day of the 11th month in 1918 when the Armistice with Germany was signed, officially ending the war that was said to end all wars. It was this day, November 11, that would become known as Armistice Day. The Treaty of Versailles had officially ended the war, but fighting ceased seven months earlier when this Armistice between the Allied nations and Germany was penned.
President Woodrow Wilson proclaimed in 1919 on the commemoration of the first Armistice Day:
"To us in America, the reflections of Armistice Day will be filled with solemn pride in the heroism of those who died in the country's service and with gratitude for the victory, both because of the thing from which it has freed us and because of the opportunity it has given America to show her sympathy with peace and justice in the councils of the nations…"
Although this day would hold power and significance for some time, it wouldn't officially become a legal holiday on the federal level until 1938. Of course, there were still celebrations and other events that took place to celebrate this prior. In 1926, Congress acknowledged the day as one to give thanks, prayer and to encourage goodwill among all regardless of who they were or what country they were from. 27 states at this time had already made it a legal holiday so it was only fitting to request a Presidential Proclamation on the matter which was issued by Calvin Coolidge. Armistice Day would eventually become a legal holiday on May 13, 1938. It would be dedicated to world peace.
Initially, Armistice Day would grow to take on the role and be set aside as a day to honor the veterans of and those lost during World War I. However, after the conclusion of World War II and the Korean War, there was a push to expand the holiday to recognize all veterans from all wars and service. In 1945, thanks to a WWII veteran from Birmingham, Alabama, Raymond Weeks, the idea was planted to have the holiday to incorporate and celebrate all veterans and not just those who passed in WWI. Weeks would garner a substantial amount of support during this time and go on to celebrate this ideal in conjunction with Armistice Day for a full 8 and a half years before it would officially be signed into law under President Eisenhower's administration in 1954. Congress would go on to change the name from Armistice Day to Veterans Day in the United States.
In 1971, the Uniform Holidays Monday Act, was an attempt to permanently make federal holidays such as Washington's Birthday, Columbus Day, Memorial Day, and Veterans Day always land on a Monday, thus making for a longer weekend for all federal employees. While this had worked and is the case for the first three mentioned, as they are all on their designated Mondays within their months, this movement for Veterans Day created a lot of confusion within the nation. This was probably due to not only being one the most popular and held in high regard holidays in the country but also sharing such a significant date with most of the rest of the world. November 11th, while a big date in the U.S. was also celebrated across many European countries under the name of Armistice Day. In 1978, Veterans Day finally would return to its Armistice Day origins on November 11th.
The Connection with Vietnam War Veterans
Vietnam War Veterans Day is observed annually on March 29, thanks to a proclamation from President Barack Obama in 2012 asking the American people to "observe this day with appropriate programs, ceremonies, and activities that commemorate the 50-year anniversary of the Vietnam War." This date would be chosen because, on March 29, 1973, the last U.S. combat troops departed from Vietnam, marking the end of direct U.S. military involvement in the Vietnam War. However, it wouldn't be signed into an act recognizing March 29 as Vietnam War Veterans Day until 2017 by President Donald Trump.
The recognition of Vietnam veterans is not limited to this day alone. Veterans Day, observed on November 11, honors all veterans, including those who served during the Vietnam War. As such, November 11 offers another opportunity to express gratitude and respect to Vietnam veterans.
As an all-encompassing holiday, paying homage and respect to all veterans, Veterans Day also holds a special significance for Vietnam War veterans. This period was one of not only the dangerous and intense conflict abroad but also that of societal division at home with many people against the war and sending troops to this faraway land. It is worth noting that the Vietnam War was a long and controversial conflict with many who served found themselves returning home to a divided nation, often without receiving the recognition they deserved for their service and sacrifice. It was a challenging time for everyone involved and one that deserves to be remembered and honored. Not only for what it was but for being better in the future.
Recognition on Vietnam War Veterans Day and Veterans Day serves as an acknowledgment not only for their service but also as a show of respect for the hardships they endured. Fortunately, over time, the recognition and appreciation for our Vietnam War veterans has grown, with both Vietnam War Veterans Day and Veterans Day remaining an important and monumental occasion set aside to honor and pay homage to them and for all that they have done.
Difference between Memorial Day
While both Veterans Day and Memorial Day honor the men and women in our military, they each serve different purposes. Memorial Day, observed on the last Monday in May is a day of remembrance for those who have died in service to their country. This holiday has its roots in the Civil War era and was declared a national holiday in 1971.
On the other hand, Veterans Day, observed on November 11, is dedicated to all military veterans, both living and deceased, with a particular focus on thanking living veterans for their service. Unlike Memorial Day, which is a day of mourning, Veterans Day celebrates those who served and returned.
The key difference between the two lies in who they honor and how:
Memorial Day: A commemoration of service members who died in service.
Veterans Day: A celebration of all veterans, with an emphasis on living veterans.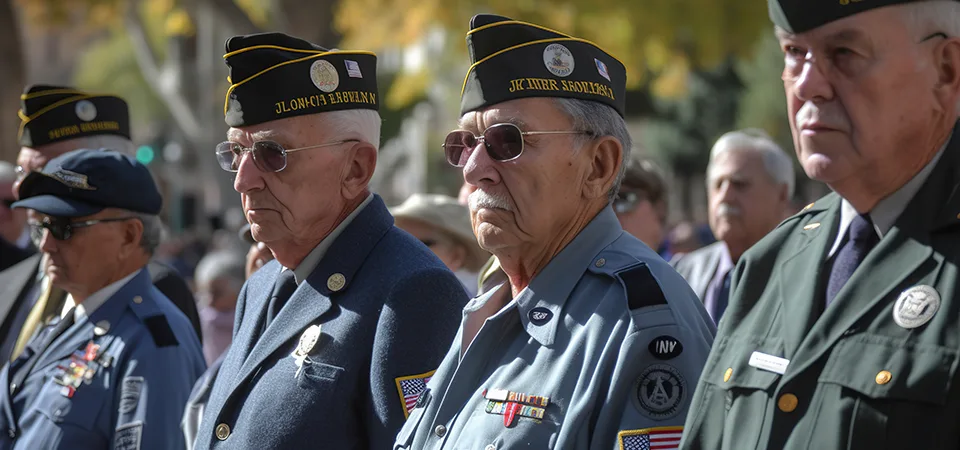 Key Facts to Take Home about Veterans Day
Although commonly mistaken, the correct spelling of the holiday is "Veterans Day", not "Veteran's Day" or "Veterans' Day". The absence of an apostrophe is intentional as it's a day to honor all veterans, not just a day that belongs to them.
The original name of Veterans Day was Armistice Day, commemorating the end of World War I. However, in 1954, the name was changed to Veterans Day to honor all U.S. veterans, not just those who served in World War I.
Veterans Day occurs annually on November 11, regardless of the day of the week it falls on. This date was chosen to honor the "eleventh hour of the eleventh day of the eleventh month" of 1918, marking the end of World War I.
Despite its name change and broadened scope, Veterans Day still holds its roots in the end of World War I. It is not just a day to thank veterans for their service, but also a day to promote world peace and remember the sacrifices made during times of war.
How to Thank Veterans on this Day
Of course, there are plenty of things you can do on your own to celebrate this holiday as well. It is a time for you to show gratitude to the veteran or veterans in your life. Whether you decide to do this through giving thanks, some kind words and actions or just taking the time to talk with them and listen to their stories if they are willing to share them.
It's a day to honor their service and to remember the sacrifices they made in the name of freedom and peace.
You can do this in a number of ways, such as:
A Personal Acknowledgement: A simple yet heartfelt, "Thank you for your service," can mean a lot to a veteran. It's a straightforward acknowledgment and one that they never tire of hearing. I am fortunate enough to know this from first-hand experience.

Writing a Letter or Sending a Card: Writing a letter or sending a card can also be a very powerful way to get your message across. This is also something they will be able to tangibly hold, have, and remember the act by.


Attending your local Veterans Day Events: There are numerous ceremonies, parades, and other events that happen this time of year. Simply attending these and standing beside your fellow brothers and sisters is a great way to show your support and appreciation. You may even get a chance to say that heartfelt thanks to the veterans present.


Volunteering at Events or Your Local VFW Hall:Requiring a little more effort than attending, volunteering can be a very rewarding gesture. Starting small and seeing just what you can do in your community to benefit its veterans is an easy and great way to give thanks and pay them back.


Supporting Veteran-Owned Businesses: While there are plenty of events in your area, I'm just as sure there are plenty of veteran-owned businesses close by. Going into their shop and purchasing goods even if it is not something you necessarily need is an excellent way to support them and their business with something they can truly benefit from. You may even get to chat with them a bit and express your gratitude.


Learn some History:Nothing quite ignites a newfound respect or admiration quite like learning about what these brave men and women have done.

Wave a Military Flag:Any proud member former or current of the United States Military is always happy to see the flag of the branch they served in or are currently serving. As such, any Military Flag you wave is going to make someone smile.
Wave the American Flag:And just in case you don't have a Military flag on hand, waving the good old red, white, and blue is a great option too. After all, the American Flag is what these brave men and women served under.
Closing Thoughts
Remember, the goal of Veterans Day is to show your appreciation. Whether through what we discussed above or in some other personal and meaningful way. One thing to keep in mind, the most important thing you can do is to be sincere in your thanks. These men and women have seen things that we only have seen in the movies. We will never truly know what they gave, the hardships they endured, or just what they lived through. And a good first step is simply acknowledging that. Realizing that we are all in this together. While they went off and fought on the frontlines to take care of us, we can stand proudly here on the homefront and take care of them. Although we can never truly pay back what these men and women have given, we can most certainly try.
Common Questions About Veterans Day
Is Veterans Day a federal holiday?
Yes, Veterans Day is recognized as a federal holiday in the United States. It is observed annually on November 11, regardless of what day of the week it falls on.
Typically on Veterans Day, all non-essential federal government offices will be closed, and federal employees and sometimes by proxy, members of the military receive the day off and are paid for this time off. Some states and companies also recognize this as well and will give workers the day off with pay.
Why is Veterans Day always on November 11th?
The choice to have November 11th as Veterans Day is both rooted in history and was made as a sensible solution. November 11th marked the date that the Armistice between Germany and the Allies of World War I was signed. This would end the fighting on land, sea, and air that was taking place in WWI.
The date continued to hold its importance despite attempts to shuffle the holiday around and designate it as a set Monday. Between 1971 and 1978, Veterans Day was observed as the 4th Monday of October due to the Uniform Monday Holiday Act, which aimed to provide long weekends for federal employees and members of the military. However, many people experienced confusion over this decision and were unsure of when Veterans Day was officially celebrated and observed. Along with this, November 11th still held a historic and patriotic significance for many countries around the world as it marked the end of the First World War. An event shared and felt deeply with many other men and women from all walks of life and all corners of the globe.
Veterans Day would be moved back to its original day in 1978. Thus, no matter what day of the week it falls on, it is always recognized on November 11th.
Will it be Observed on Monday in 2023?
In 2023, Veterans Day will fall on Saturday, November 11th. As per the guidelines set for Federal Employees, when a holiday falls on a weekend, it is observed on the closest regular workday. Meaning, that if Veterans Day falls on a Saturday, it is going to be observed on the Friday before as this is closest to the actual day.
With this in mind, it will not be observed on the following Monday. Instead, it will be observed on Friday, November 10th, 2023. This is a unique aspect of Veterans Day and its observance that distinguishes it from some of the other federal holidays in the United States.


Bibliography
Arlington National Cemetery. "National Veterans Day Observance Open to Public," October 30, 2023. https://www.arlingtoncemetery.mil/Media/News/Post/13345/National-Veterans-Day-Observance-Open-to-Public.
J. Tuscher. "History of Veterans Day - U.S. Department of Veterans Affairs." department.va.gov, July 20, 2022. https://department.va.gov/veterans-day/history-of-veterans-day/.
Wikipedia. "National Vietnam War Veterans Day," March 14, 2023. https://en.wikipedia.org/wiki/National_Vietnam_War_Veterans_Day.
Wikipedia Contributors. "Memorial Day." Wikipedia. Wikimedia Foundation, April 11, 2019. https://en.wikipedia.org/wiki/Memorial_Day.
———. "Veterans Day." Wikipedia. Wikimedia Foundation, November 9, 2019. https://en.wikipedia.org/wiki/Veterans_Day.